See on Scoop.it – Creativity and Learning Insights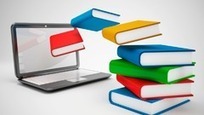 https://www.coursera.org/course/cic
Creativity, Innovation and Change
With Drs. Jack Matcon, Darrell Velogol and Kathryn Jablokow.
Explore your unique brand of creativity to gain deeper personal insight. Learn and apply new techniques to make innovative contributions in your own world. Solve complex problems and drive change creatively.
Workload: 6-8 hours/week
Marci Segal, MS's insight:
his course empowers learners to develop their creative human potential to improve, enhance, and transform their businesses, communities, and personal lives. Processes like Intelligent Fast Failure will teach you rapid prototyping skills, while the Adaption-Innovation creative style spectrum will help you understand how and why your ideas are unique – and how you can work better with others to solve complex problems.
Personal reflection tools like CENTER add a character development dimension to the course that is an important first step towards unlocking your creative potential. Along the way, you will engage with a rich set of tools, exercises, and metrics in order to understand these concepts and how they impact the development of your creative life and career.
See on www.coursera.org